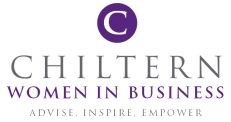 Welcome to Chiltern Women in Business
With only 11% of financial advisers being female and more and more women wanting or needing advice but not taking it, what is putting them off. It seems that the financial services industry can appear to the outside world as being dominated by alpha males. It is not that women necessarily prefer a female adviser but more that they are intimidated by the whole culture and so don't know where to start when looking for financial help.
Chiltern Women in Business, CWIB for short, is run in support of and in partnership with, female owned, local and ethically driven businesses. The brainchild of co-founders, Independent Financial Planner Joanna Coull and Hannah Sainsbury, the aim is to create a working community of like minded professional businesswomen, to run regular meetings in a relaxed beautiful setting and to create an environment/space where women have the confidence to talk freely whilst at the same time learning.
You will be able to build solid business relationships where you can enhance your own business with the expertise of the other women in the community. 
CWIB has been created to address financial matters, but with a more gentle approach. Creating an experience that is relaxing. Where you are listened to and not made to feel un-knowledgeable. Where the discussions revolve around key issues such as not being a burden to children, financial security and how to maintain a certain standard of living. Offering support and advice at a time when a woman might be feeling vulnerable e.g. going through divorce or bereavement.
Does this sound like a community you would like to be part of?
To register your interest in the CWIB community, please contact us through one of the links below.
Visit our website at www.chilternwib.com
There's no membership fee, just a community that wants to advise, inspire and empower.
Instagram: https://www.instagram.com/chiltern_wib/
Twitter: https://twitter.com/ChilternWIB
Meet Up: https://www.meetup.com/Oxford-Womens-Empowerment-Meetup-Group/
Chiltern Women in Business is a brand name for Chiltern Consultancy Limited which is registered in England & Wales No. 04580636. Registered Office at 22 Wycombe End, Beaconsfield, Buckinghamshire, HP9 1NB. Chiltern Consultancy is authorised and regulated by the Financial Conduct Authority no. 514493. The guidance and/or advice contained in this website is subject to UK regulatory regime and is therefore restricted to consumers based in the UK.