Chiltern Personal Finance Portal
The Chiltern Personal Finance Portal (PFP) is a revolutionary App that gives you access to view your personal data in one place 24/7 on any mobile or web enabled device. With data security being one of our upmost priorities, PFP enables you to view all your personal data securely, send and receive secure messages between you and your adviser and upload and store documents in a secure document vault.
What you see in PFP is driven by our back office system (Intelligent Office) so any information you input will also feed back to your Adviser in real time.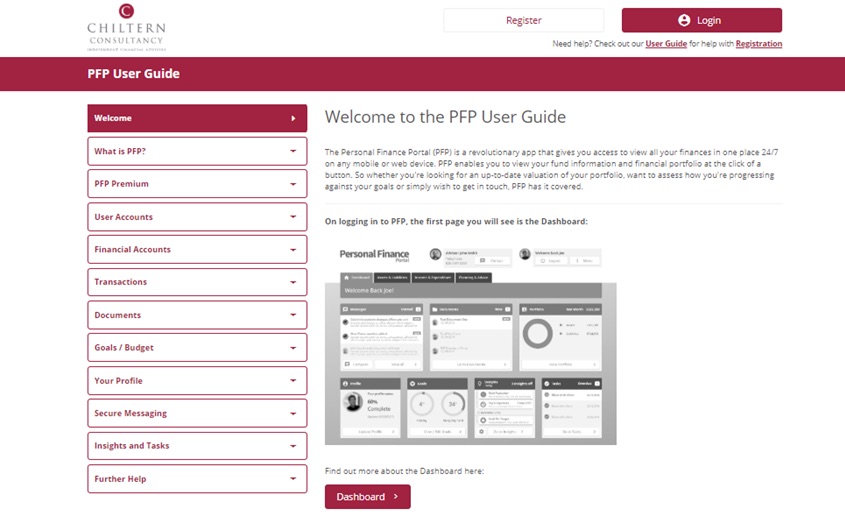 Why PFP?
We want you to feel that your personal data is secure and protected with email and traditional post increasingly vulnerable to interception and subsequent misuse. For peace of mind your online portal includes:
Secure messaging service - get in touch with us and have peace of mind knowing any information you share with us is fully encrypted and completely private. 
Document storage - house all your financial documents online in a secure vault where they are secure and backed up (much safer and convenient than in the bottom of the filing cabinet!) 
Your Profile  - is where you control your data. Your Profile is organised into sections and subsections that represent different aspects of your personal and financial information. You can visit Your Profile at any time to add data or manage your details as your circumstances change.
There are many other great features within the portal.
To register, you need to be an existing or new client of Chiltern Consultancy, please navigate to our PFP Login and follow the four quick and simple steps to get you up and running.
Let our Personal Finance Portal help you understand your finances better.
If you have any further queries, please do not hesitate to get in touch at enquiries@chilternconsultancyltd.com